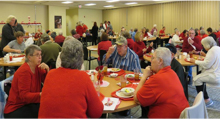 The congregate nutrition meal program at the Department on Aging provides a hot, nutritious meal at the Sylva Senior Café and the Cashiers Senior Center. All meals are approved by a register dietician and meet 1/3 of the recommended daily dietary allowance. Lunch is served 11:30 a.m. to noon Monday through Friday at the Department on Aging Heritage Room in Sylva, and Monday through Thursday at the Cashiers Senior Center. These meal sites provide areas for socialization as well as opportunities to participate in activities with the Senior Center such as exercise classes, arts & crafts, bingo, field trips, education seminars, etc.
To qualify for meals through the Home Care Community Block Grant Program (HCCBG), participants must be 60 years of age, complete an application, and meet all guidelines. Private pay meals are available for seniors that do not meet the HCCBG guidelines. Participants must sign up for a meal one day in advance by 3pm to guarantee a meal for the following scheduled day. Congregate Nutrition is closed on holidays and occasionally for bad weather. Weather related closing will be announced on 540 WRGC and WLOS and follow the Jackson County Schools schedule for inclement weather. If Jackson County Schools are closed for inclement weather than the congregate nutrition program will be closed. Delays will not affect the service of meals.
Click here for the current month's congregate daily menus in new window.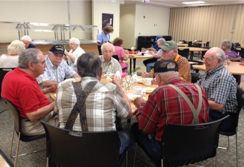 To sign up for each program call the numbers below or visit each facility:
Sylva Senior Cafe

Heritage Room
100 County Services Park
Sylva, NC 28779
828-586-8562
Cashiers Senior Center
217 Frank Allen Road
Cashiers NC 28717
828-745-6856
The Department on Aging participates with the USDA Commodity Supplemental Food Program.
USDA is an equal opportunity provider and employer.